9 Attractions Worth Visiting in Chicago
If you're on your vacation in Chicago, you'll have many things to do in this city. However, you certainly wouldn't want to miss some of its popular tourist attractions. This city enjoys a pleasant weather from spring until fall. The best time to visit Chicago would depend mainly on your interests.
Chicago has been nicknamed the 'Windy City' and is located along Lake Michigan's shores. It enjoys great popularity across the world for its 20th-century art and architecture. Frank Lloyd Wright, Picasso, Louis Sullivan and many other artists and architects have left their mark on the city.
You'll be able to enjoy many cultural attractions and memorable shopping experiences while exploring this city. Here we present some of the best attractions worth visiting during your time spent in Chicago:
1. Lincoln Park
Along Lake Michigan's edge is Lincoln Park, a charming green space that stretches to about six miles. It is the biggest park in the city and houses the Lincoln Park Zoo and Lincoln Park Conservatory. You'll also come across Chicago History Museum and Peggy Notebaert Nature Museum in the park.
Besides all these offerings, you'll also find bike trails, beaches, playing fields, and jogging paths. The park also has some brilliant pieces of public art. Among them is a bronze statue of Abraham Lincoln, which Augustus Saint-Gaudens had completed in the late 19th century.
2. Field Museum of Natural History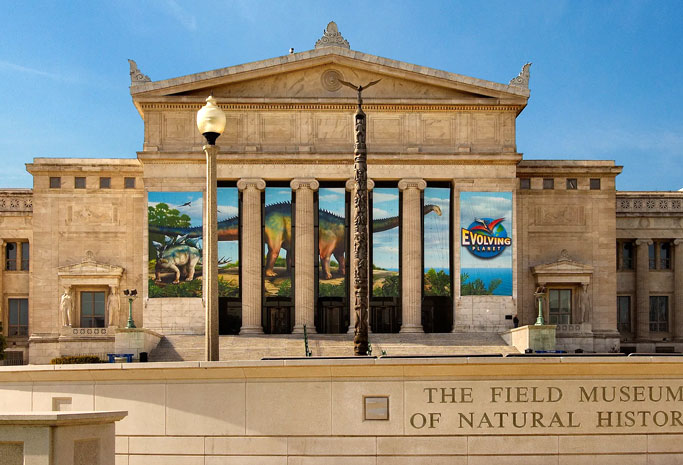 This museum was originally called the Columbian Museum of Chicago. It was founded in the late 19th century with the intention of showcasing the anthropological and biological collections. All of them were gathered for exhibition at the World's Columbian Exposition.
In the early 20th century, the name of this museum was changed in the honor of Marshall Field. He was a patron of art, owner of the department store, and the museum's major benefactor. The permanent collection in this museum features around 20 million specimens and artifacts. They cover geology, anthropology, zoology, botany, and several other disciplines.
You'll also find permanent displays associated with Ancient Egypt. The museum also has permanent displays on Central, North, and South American cultures. Don't miss the most complete and world's largest skeleton of Tyrannosaurus Rex.
3. Art Institute of Chicago
You'll get to see thousands of artworks in this world-class museum. The Art Institute of Chicago is known for its fabulous collection of impressionist and post-impressionist paintings. They include George Seurat's 1884 painting called A Sunday Afternoon on La Grande Jatte.
You'll also come across other impressive paintings from famous artists such as Claude Monet and Pierre-Auguste Renoir. The main building of this museum was constructed for the World's Columbian Exposition. Today, the entire complex is spread across a vast area of 400,000 square feet.
4. 360 Chicago
Adventure lovers would love to explore this observation deck owing to its newest feature called 'Tilt'. This observation area is located on the 94th floor of John Hancock Building. You can easily recognize this building due to its dark metallic exterior. From 360 Chicago, you can enjoy awe-inspiring views of the city's skyline. Its 'Tilt' feature will give you the chance to be tipped outward at a certain angle.
As a result, you'll be looking straight down from the glass enclosure. The building also houses many offices, shops, and apartments. On the first floor, you'll get to witness a multimedia exhibit. It gives you some valuable information about Chicago city and John Hancock Building's construction.
5. Museum of Science and Industry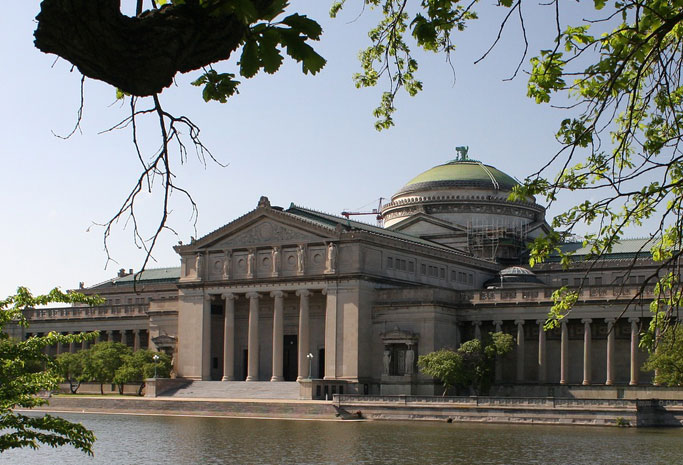 This museum is located at the northern end of Jackson Park. You'll find permanent as well as changing exhibits in the museum. The Museum of Science and Industry is also home to an OMNIMAX theater. Founded in the year 1933, this museum is one of the most impressive museums of the city.
It is probably the first museum in the United States to include interactive exhibits. The museum mainly showcases the application of natural laws in the development of industry and technology.
6. Buckingham Fountain
Although the official name of this fountain is Clarence Buckingham Memorial Fountain, it is popular as the Buckingham Fountain. The construction of this fountain dates back to 1927. You'll clearly see the Art Deco influence in its design. This fountain is one of the world's largest and is a central point of Grant Park. It comes alive from 8:00 in the morning and delights visitors until 11:00 in the evening.
The sculptures of four seahorses surround this fountain. They represent the four bordering states of Lake Michigan. Buckingham Fountain shoots 15,000 gallons of water through 200 nozzles every minute. This creates an impressive display of the shooting waters, which is also accompanied by lights after dusk.
7. Navy Pier
The Navy Pier comprises 50 acres of gardens, shops, concert venues, parks, and other attractions. Its opening dates back to the early 20th century. During those days, it operated as a shipping facility and amusement area. Over the years, it became one of the most popular attractions in the city. Upon visiting the Navy Pier Park, you'll find a historic carousel and a 150-feet Ferris Wheel.
You can watch a film at the 3D Imax Theater during your visit to the Navy Pier. You can also choose to watch some wonderful performances at the Chicago Shakespeare Theater. Some of the other attractions you must not miss include Chicago Children's Museum and Crystal Gardens.
8. Millennium Park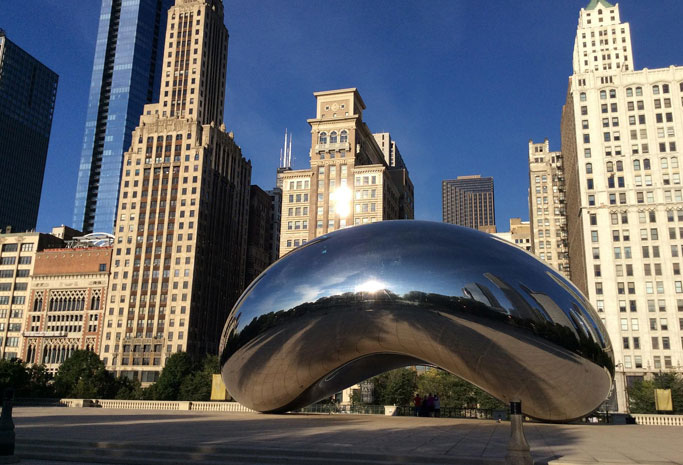 A part of the larger Grant Park, Millennium Park is home to a popular attraction called Crown Fountain. It is a modern interpretation of the ancient gargoyle. This fountain gives the appearance of water flowing from the mouths of the images of Chicago's citizens. Millennium Park is located in the city's downtown area.
At its center is a sculpture with the name 'Cloud Gate', which weighs 110 tons. It has a polished surface made with mirror-like stainless steel. The sculpture reflects the surrounding buildings, sky, and the people walking through its central arch.
9. Willis Tower SkyDeck
Until the construction of Petronas Towers in Kuala Lumpur, Willis Tower was the tallest commercial building in the world. This 110-story building took three years to build. It has an observation area known as the SkyDeck, which is located on the 103rd floor.
Jutting out from this observation area is a glass box that has a glass floor. They call this box 'The Ledge'. You can stand in this box and look directly down at the city. A visit to SkyDeck will allow you to enjoy a bird's eye view of the city's impressive architecture.